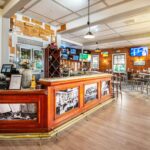 The Front Bar is home to the newly positioned TAB which is spacious, comfortable and has views over Port Denison Harbour. Here you can regularly see yacht races and sailors from the Port Denison Sailing Club honing their skills.
The western end of the Front Bar also services our new Restaurant, which once was our gaming room.​ ​The Front Bar is a great meeting place to catch up and blow the froth off a cold one. ​
Our new bar taps are made of Belaying Pins from the yacht "GRETE". ​All of the old yacht pieces including the mast that stands in the Beer Garden are from "GRETE" which was built in 1937 Denmark.
​"GRETE" was abandoned in the Bowen Boat Harbour and ordered to be demolished because of her hull rotting from the waterline down. ​
What could be salvaged of the boat was saved to be used throughout the venue before the remainder was eventually destroyed. The boat was built of Northern Hemisphere Pine – Douglas Firr.
A museum in itself, venture to our beer garden and you'll discover more local history. Made up of parts of town that could long have been forgotten, our beer garden hosts an almost eclectic atmosphere. Look no further for Bowen's favourite space to watch major sporting events, soak up the sun in the afternoon with friends or bring in the weekend with live music. 
---